Finished Basement Leakage Problems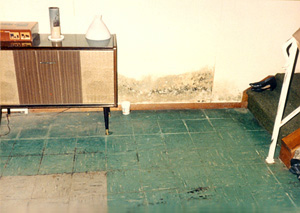 A finished off basement can present a particular problem; if you can't see the bare walls and floor, how do you determine what is causing the problem?
Because the wallboard and studding in a finished basement may have to be removed anyway, for installation of any type on inside waterproofing, you should consider taking these items down prior to having a contractor inspect your problem. If the bare walls are not exposed, someone has to use their gut feelings or even guess what's going on behind the finished walls. Although a good outside and inside inspection will give an experienced contractor some hints, it is best for all parties to see the bare walls and floor, to accurately determine the scope of potential work needed. Before you attempt starting a new basement finishing project, check for water, dampness or moisture problems.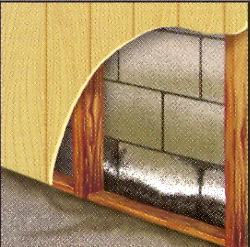 Remedies:
In general, waterproofing work in finished basements will entail the same methods and systems used in unfinished basements. After removing your wallboard, look at the foundation to see what seems to be the problem. Click on any problem you see listed below, for information on repairing your basement.
Basement is Damp But, NO VISIBLE LIQUID WATER is Seen
Rusted Metal Tools and Appliances But, NO VISIBLE LIQUID WATER is Seen
Paint is Peeling But, NO VISIBLE LIQUID WATER is Seen
Musty Odors But, NO VISIBLE LIQUID WATER is Seen
Damp Spots on The Walls but NO VISIBLE LIQUID WATER is Seen
Walls are Leaking Above the Floor
Puddles, Small Leaks or Other Minor Leakage
Leakage Comes Up Through Floor Cracks
Water is Accumulating or is Getting Deep.
Water is Coming Over The Tops of Walls
Walls are Buckled, Bowed or have Settled
Basement Finishing Recommendations
Before you begin finishing basement walls and floors, use our Wet Basement Analyzer to determine if you have a water leakage problem or not. It's a lot easier and cheaper to waterproof the area before your basement finishing efforts begin.
Finished basements with water problems detract from the value of your home, while a nice dry area with a professionally installed basement finishing system will add value to the home.