IS IT A CRAWLSPACE OR A CRAWL SPACE ???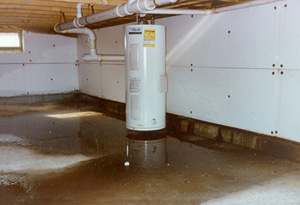 Whether you consider the lower foundation area of your home a crawlspace or a "crawl space," the meaning is obvious; you probably can't stand up down there!
Luckily for you, B-Dry Dealers across the country have a great deal of experience with crawlspace ventilation, repair, drainage systems, sealers and crawlspace waterproofing.
There are many misconceptions about how to repair the problems homeowners face in these confined areas. For instance, a crawlspace vapor barrier or sump pump installation, will not prevent all crawl space moisture problems.
Another misconception is that adding more crawl space ventilation will help with solving humidity problems and condensation. Actually, the opposite is true. Allowing more humid air from the outside can greatly add to crawl space moisture problems.
A complete crawl space waterproofing system includes a good drainage system with sump pump to deal with ground water issues, a vapor barrier to limit vapor drive from moisture laden soil, an adequate dehumidifier to dry the air and a good waterproofing sealer for wall leakage problems. If you have a drainage system installed for ground water control, you'll need a quality sump pump that's sized for your particular situation.
Your local B-Dry System Dealer can supply you with all the products and services you need for crawl space repair so you can solve your water problems.