PROVEN BASEMENT WATERPROOFING SYSTEMS
PATENTED IN 1986
The Basement Waterproofing Systems which are integral components of the complete B-Dry leak repair and seal system, have demonstrated remarkable success in controlling drainage problems, and they were issued their first USA Patent in 1986! The B-Dry System which was developed exclusively for waterproofing basements, is one of the best available today. As a part of this complete system we repair current damage and seal leaks to prevent any future repairs.
BASEMENT DRAINAGE TECHNOLOGY:
The B-Dry® Basement Drainage System and sump pump systems are installed on the inside of your basement below the surface of your concrete floor, reducing the hydrostatic pressure which causes water leakage. A sump pump or other methods can then expel any water drained from underneath your slab. These systems help prevent future flooding.
BASEMENT SEALER:
Our Rigid Sealer provides a dependable waterproof basement sealer and barrier between your wet basement walls and any wall panels,insulation and other building materials.
B-Dry Rigid sealer panels are formed from a special plastic-polymer. It provides for the special purpose of spanning cracks and other defects in your basement walls
As a crucial part of our complete process, B-Dry Rigid Sealer helps prevent basement leaks in walls that could potentially cause flooding.
The B-DRY® BASEMENT WATERPROOFING SYSTEM ADDRESSES:
Wet Basement Wall Leaks
Water Leaking At The Floor Wall Joint
Water Leakage Coming Up Through Concrete Floor Joints or Cracks
Wall Leaks in Stone Basements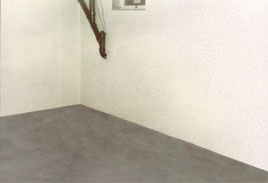 B-Dry Basement Sealer
MORE BASEMENT WATER SOLUTIONS:
Bulging Walls Reinforced
Stair Leakage and Entryway Leakage
Remodeled Basements Waterproofed
Cement Block and Cinder Block Problems
Field Stone Basements Waterproofed
Crawlspace Waterproofing Systems
From Rod Leakage in Concrete Walls
Underground Window Well Leaks
Bowing Walls Reinforced


Check with your local installer for terms and conditions of their warranty.