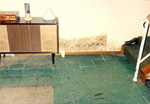 Water or Dampness in a
Finished Basement
Basements with wallboard and carpeting present somewhat of a challenge to diagnose. When you can't see the actual masonry basement walls, it is difficult to determine the source or cause of the leakage.

Your sheetrock or paneling may have to be removed to identify the nature of the problem. When you consider the fact that these materials may have to be removed anyway to make the repairs, you might want to do so now so you can get an accurate idea of what is going on behind the studding; otherwise, you may be just "guessing".
Remedies: Generally, water problems in a wet finished basement will require the same materials and techniques as waterproofing a regular basement. Once your wall covering is removed: