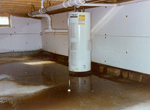 Accumulating Water or Leakage
Up From The Floor
Potential Causes:
• Clogged Drain Tiles or French Drains
• Underground Water Pressure
• Elevated Water Table
Larger amounts of water that start accumulating is a sign that the water table may be rising higher than your basement floor. The water table can rise up during extended rainy seasons and then drop back down during drier periods.
When a home is built, most builders will install footer drain tiles or exterior French drains to control the water table from rising high enough to cause leakage.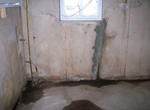 Over time, exterior drainage systems can become blocked with mud, roots or sediment. As these drainage systems become less efficient over time, water begins to rise up in the soil, higher than the basement floor. This condition creates water pressure against the exterior basement walls and underneath, resulting in basement floor leaks.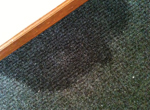 Under pressure, water seeps in through cracks or openings caused by expansion and contraction of the basement. In order to waterproof your basement floor, you must first drain the water from underneath it.
Solutions:
Install New Footer Drains - Waterproofing your basement floor will require that you first relieve any water pressure underneath it. You will need to have a new drainage system installed either outside your basement footers or inside underneath the basement floor. A reliable drain system will lower the underground water table and relieve water pressure underneath your basement floor.
Outside Drainage System Installation: An excavator will dig a deep trench around all the outside perimeter walls of your foundation. Another long trench would be dug for the exit pipe which will allow the water to drain away from your basement by means of gravity. This trench would be dug toward a part of your property that is lower than your existing basement floor. You'll have to check with a surveyor to determine if the elevations on your property will allow this approach.
A new drainage system would be placed in the trenches, surrounded by gravel and a filtering media. Exterior walls would be cleaned and coated with a fresh waterproof coating. The soil would later be backfilled and grass would be replanted.
Interior Drain System Installation: Interior drains require opening a trench inside the basement around the perimeter walls. Generally, a section of the basement floor would be broken out about one foot wide with trenches dug alongside your footers. Drain tile with crushed stone would fill the trenches. The drainage system would exit water to a container with a sump pump installed. The floor would then be re-cemented to its original condition.
Waterproof Sealers: Liquid sealers, paintable sealers and rigid sealers are options for your basement floors and walls. Once the basement floor has been allowed to dry out for several weeks, there are waterproof basement floor sealers that are easy to apply yourself.
Check all warranties that come with any of these systems to make sure they cover the type problem you are having.