B-Dry® System of New Jersey
An Independent Licensee of B-Dry System, Inc.
30 Abbett Ave., Morristown, NJ 07960
Phone: 973-631-9622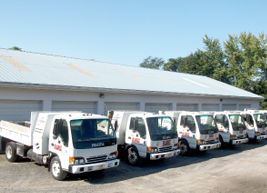 Basement Waterproofing in NJ & French Drain Replacement In Northern New Jersey
B-Dry® System of New Jersey has waterproofed thousands of basements in Northern NJ since 1981. Our family owned and operated basement waterproofing company employs our own technicians and we do not use sub-contractors. The B-Dry® Basement Waterproofing System is the perfect replacement for French Drain systems that no longer work properly or for French Drains which have become blocked. The B-Dry® System comes with a Customer Protection Warranty!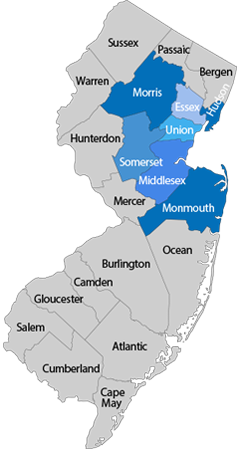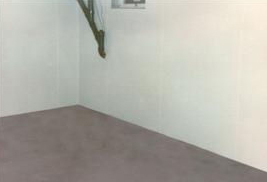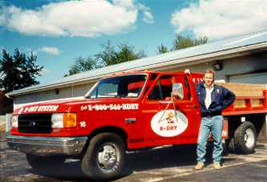 Serving North Jersey for 30 Years
Family Owned & Operated Since 1981
1986 US Government Patent
Block - Concrete - Stone Basements Waterproofed
Finished Wet Basement Waterproofing Process
Company Employees:
No Sub-Contractors

No Toxic Materials Used
Free Estimates are Cheerfully Given
Lifetime Warranty
B-Dry® Waterproofing Reviews
Dear B-Dry Systems,
I just wanted to send a thank you note concerning the B-Dry System installation. Not only did we receive a superior product installed with care and professionalism but we were given the opportunity to pay for this product over time at no additional cost.
You have provided our family the peace of mind that comes from knowing that our basements will stay dry. Since the installation of the system, we have received several large rainstorms and not a drop of water is in our basement. And all of this was done in a way that was comfortable to our budget, for this we cannot thank you enough.
I'm happy to recommend your company and its product to anyone who asks.
Thank You,
Annette R.
Morristown, NJ 07960
Reviews and Editorial about B-Dry® NJ by Local Media: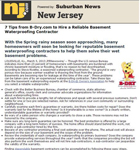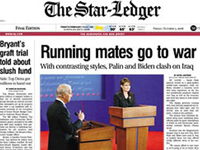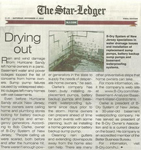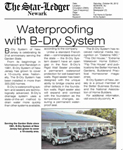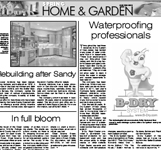 We Are Proud Members Of: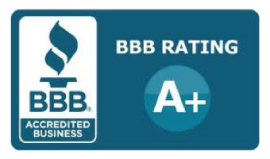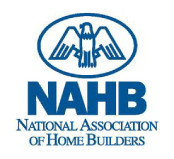 B-Dry® Owner's Association

EZ Financing Is Available:
Monthly Payment Plans



Licensed B-Dry® basement waterproofing contractors go through extensive training and engage in extensive field training and seminars every year. We are licensed by the State of NJ and carry Waterproofing Contractors Liability and Workers Compensation insurances on our employees.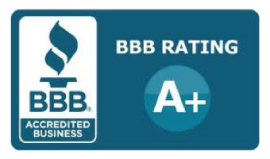 Reviews From Our B-Dry® Customers
Dear B-Dry,
I would like to take this opportunity to personally thank your team that installed my system. I commend them for a job well done. The work they did was done in the prescribed manner and time frame. I was completely impressed with their work ethic, their manners and their focus on the task at hand.
The system they installed has worked splendidly. We've had a few large rainstorms and even some flooding and during all of that, the waterproofing system worked great and our basement stayed completely dry. I am very impressed.
I am very grateful to have this problem taken care of, but even more so, for the quality of the work you and your team performed in my home.
Thank you sincerely for a job well done.
Debbie
Parsippany NJ 07054
To B-Dry Systems,
We used to get 2 to 3 inches of water in the basement when it rained. We did some research on the internet and decided to have B-Dry come and give us an estimate. The guy who came out to give us our estimate was knowledgeable and easy to work with. We decided to have the work done and our basement has been dry ever since.
It was a pleasure dealing with all the representatives of your company,
Thank You
Peter R.
Randolph NJ 07869
To My Friends at B-Dry,
I am writing to inform you of the excellence of your B-Dry System. Our installation took place at a most critical time. Shortly after the installation of the system, we received rain in our area from a hurricane. During this time, not one drop of water entered my basement. Some of my neighbors incurred severe water damage from this storm.
I am recommending and showing your system to many of my friends and neighbors. It was a rewarding experience doing business with you.
B-Dry System receives the highest rating of EXCELLENCE from me.
Sincerely,
Susan
Madison NJ 07940
Dear Steve,
I just wanted to tell you that the waterproofing system you installed in my home is working wonderfully. It has been over a year since it was installed and it has been tested by some heavy rainstorms. Every time it rains, I peak down the basement steps and hope that there are no puddles and every time the basement stays dry.
I also wanted to mention that the crew members that installed my job were wonderful. They worked every minute they were here and did a great job. They were very courteous and respectful. They deserve a raise.
Thanks again,
Tom L.
Mendham NJ 07945
Dear B-Dry System,
As you know, I had been coping for two years with excessive flooding in my basement. Due to your superb water proofing system, I now have peace of mind that my worries of basement flooding are over. Also, it was imperative I write this letter to you to express my satisfaction with the expertise and competence of your crew. Not only are they conscientious and extremely hard working but they are pleasant, courteous and most respectful. These men are truly an asset to your company.
Allison H.
Somerville, NJ 08876
Service Areas
B-Dry® Basement Waterproofing of NJ offers French Drain replacement and waterproofing services in North Jersey areas of Morris County, Essex, Union, Somerset, Middlesex and Union Counties. We also replace French Drains in cities like Morristown, Patterson, Orange and Somerville New Jersey.
NJ Cities & Towns - Served By B-Dry® Basement Waterproofing New Jersey
Essex County
07003 BLOOMFIELD
07004 FAIRFIELD
07006 CALDWELL
07007 CALDWELL
07009 CEDAR GROVE
07017 EAST ORANGE
07018 EAST ORANGE
07019 EAST ORANGE
07021 ESSEX FELLS
07028 GLEN RIDGE
07039 LIVINGSTON
07040 MAPLEWOOD
07041 MILLBURN
07042 MONTCLAIR
07043 MONTCLAIR
07044 VERONA
07050 ORANGE
07051 ORANGE
07052 WEST ORANGE
07068 ROSELAND
07078 SHORT HILLS
07079 SOUTH ORANGE
07101 NEWARK
07102 NEWARK
07103 NEWARK
07104 NEWARK
07105 NEWARK
07106 NEWARK
07107 NEWARK
07108 NEWARK
07109 BELLEVILLE
07110 NUTLEY
07111 IRVINGTON
07112 NEWARK
07114 NEWARK
07175 NEWARK
07184 NEWARK
07188 NEWARK
07189 NEWARK
07191 NEWARK
07192 NEWARK
07193 NEWARK
07195 NEWARK
07198 NEWARK
07199 NEWARK
Middlesex County
07001 AVENEL
07008 CARTERET
07064 PORT READING
07067 COLONIA
07077 SEWAREN
07080 SOUTH PLAINFIELD
07095 WOODBRIDGE
07735 KEYPORT
07747 MATAWAN
08512 CRANBURY
08536 PLAINSBORO
08540 PRINCETON
08810 DAYTON
08812 DUNELLEN
08816 EAST BRUNSWICK
08817 EDISON
08818 EDISON
08820 EDISON
08824 KENDALL PARK
08828 HELMETTA
08830 ISELIN
08831 MONROE TOWNSHIP
08832 KEASBEY
08837 EDISON
08840 METUCHEN
08846 MIDDLESEX
08850 MILLTOWN
08852 MONMOUTH JUNCTION
08854 PISCATAWAY
08855 PISCATAWAY
08857 OLD BRIDGE
08859 PARLIN
08861 PERTH AMBOY
08862 PERTH AMBOY
08863 FORDS
08871 SAYREVILLE
08872 SAYREVILLE
08879 SOUTH AMBOY
08882 SOUTH RIVER
08884 SPOTSWOOD
08899 EDISON
08901 NEW BRUNSWICK
08902 NORTH BRUNSWICK
08903 NEW BRUNSWICK
08904 HIGHLAND PARK
08905 NEW BRUNSWICK
08906 NEW BRUNSWICK
08933 NEW BRUNSWICK
08989 NEW BRUNSWICK
Morris County
07005 BOONTON
07034 LAKE HIAWATHA
07035 LINCOLN PARK
07045 MONTVILLE
07046 MOUNTAIN LAKES
07054 PARSIPPANY
07058 PINE BROOK
07082 TOWACO
07405 BUTLER
07438 OAK RIDGE
07440 PEQUANNOCK
07444 POMPTON PLAINS
07457 RIVERDALE
07460 STOCKHOLM
07801 DOVER
07802 DOVER
07803 MINE HILL
07806 PICATINNY ARSENAL
07828 BUDD LAKE
07830 CALIFON
07834 DENVILLE
07836 FLANDERS
07840 HACKETTSTOWN
07842 HIBERNIA
07845 IRONIA
07847 KENVIL
07849 LAKE HOPATCONG
07850 LANDING
07852 LEDGEWOOD
07853 LONG VALLEY
07856 MOUNT ARLINGTON
07857 NETCONG
07866 ROCKAWAY
07869 RANDOLPH
07870 SCHOOLEYS
MOUNTAIN
07876 SUCCASUNNA
07878 MOUNT TABOR
07885 WHARTON
07926 BROOKSIDE
07927 CEDAR KNOLLS
07928 CHATHAM
07930 CHESTER
07931 FAR HILLS
07932 FLORHAM PARK
07933 GILLETTE
07935 GREEN VILLAGE
07936 EAST HANOVER
07940 MADISON
07945 MENDHAM
07946 MILLINGTON
07950 MORRIS PLAINS
07960 MORRISTOWN
07961 MORRISTOWN
07962 MORRISTOWN
07963 MORRISTOWN
07970 MOUNT FREEDOM
07976 NEW VERNON
07980 STIRLING
07981 WHIPPANY
07999 WHIPPANY
Somerset County
07059 WARREN
07060 PLAINFIELD
07062 PLAINFIELD
07063 PLAINFIELD
07069 WATCHUNG
07920 BASKING RIDGE
07921 BEDMINSTER
07924 BERNARDSVILLE
07931 FAR HILLS
07934 GLADSTONE
07938 LIBERTY CORNER
07939 LYONS
07977 PEAPACK
07978 PLUCKEMIN
08502 BELLE MEAD
08504 BLAWENBURG
08528 KINGSTON
08540 PRINCETON
08553 ROCKY HILL
08558 SKILLMAN
08805 BOUND BROOK
08807 BRIDGEWATER
08812 DUNELLEN
08821 FLAGTOWN
08823 FRANKLIN PARK
08835 MANVILLE
08836 MARTINSVILLE
08844 HILLSBOROUGH
08853 NESHANIC STATION
08869 RARITAN
08873 SOMERSET
08875 SOMERSET
08876 SOMERVILLE
08880 SOUTH BOUND BROOK
08890 ZAREPHATH
Waterproofing basements in NJ since 1981.