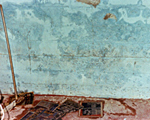 Basement Paint Flaking or Peeling Off
Flaking paint in the basement is usually due to humidity problems. The other reason is that surfaces may not have been cleaned and primed properly before the surfaces were painted.
When viewed under magnification, paints and sealers are very porous. When a high humidity level is present in the lower levels of your home, the excessive moisture is absorbed through the porous paint surface and into the masonry behind it.
When temperatures rise, "steam" forms behind the paint surface and forces it off.
Solution: First, rule out any actual water leakage that might be adding to the problem.
Second, invest in a good dehumidifier to lower and control the humidity levels. Good dehumidifiers should have an anti-frost function to work properly in your cooler lower areas. A drain hose attachment will assure that your dehumidifier doesn't shut off once the collection container is full. Let your dehumidifier run for several weeks to dry out the walls and floors to an acceptable level.
Third, properly clean all surfaces as recommended by your paint or sealer manufacturer, Generally, surfaces will require cleaning with products like TSP or even muriatic acid to etch the surfaces. Wear protective clothing, safety protection and ventilate the areas during this process. Allow the surfaces adequate time to dry properly before proceeding.
Buy a high quality primer and sealer. Check the manufacturer's instructions and warranties to make sure the products fit your needs.
After your sealer dries properly, keep your windows and doors closed to prevent additional humidity from entering the basement.